This two remarkable medallions feature a frame with a rich weave of silver filigree scrolls forming two wreaths: on the outer ring there are rosettes consisting of a full silver bead and a series of flattened petals, while the inner crown is characterized by a series of coloured gems, enclosed by bezels, mimicking an alternation of rubies and emeralds.
In the center of the medallions there are two refined oval enamels with religious scenes: the first one shows the Crucifixion with the Virgin Mary, St.John and the Magdalene, while the other depicts the penitent Mary Magdalene in a landscape, where in the background there is a view of a port town, perhaps Messina or Palermo.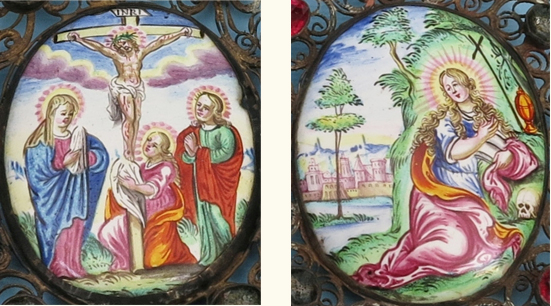 These jewels belong to a category of pendants and medallions with painted enamels, widespread in Sicily between the sixteenth and eighteenth centuries, that could be used to embellish rosaries, to be donated as votive offerings, or could be worn individually as devotional pendants. Due to the particularly light structure of these two pendants, it can be assumed that originally these were jewels for a processional sculpture.
Numerous examples similar to our pendants are known, featuring enamelled religious figures, painted mostly on a copper plate: some of them still belong to the treasures of some most important churches of the island (for example the Treasure of St. Sebastian in Acireale, that of the Madonna della Lettera in the Cathedral of Messina and in Trapani among the offerings to the Madonna).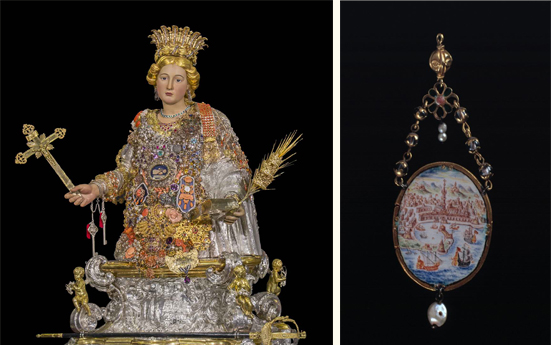 The enamelled decoration, with thin and pictorial strokes and showing a Spanish influence, is a typical feature of Sicilian jewelers, already documented during the seventeenth century.
Among the artists, the name of Giuseppe Bruno stands out, perhaps the most skilled enameller in Messina, working in the second half of the seventeenth century. Bruno is mentioned by Susinno for his "particular talent in enamelling", so much so that "he had many opportunities to serve a number of Princes". Alongside him, other goldsmiths and artists of painted enamel such as Don Camillo Barbavara or Leonardo Montalbano are also well known. Despite this, the wide world of Sicilian enamel is still little studied; also, to the considerable stylistic variety among the different Sicilian centers, corresponds a great variety of filigrees, a type of precious metalworking documented in parallel in the areas of Messina, Palermo and Trapani. In fact, there were many workshops, located in various areas of the island, where there was certainly that rigid division of tasks among masters specialized in different techniques- typical of the production of silverware- who worked side by side.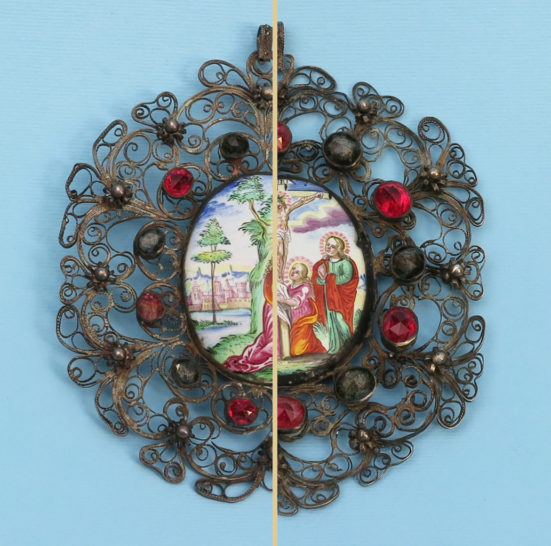 Although it is unlikely that these pendants were born as a pair, the extraordinary analogy of both filigrees and the very close style of the two painted enamels leads us to believe that both were made in the same context, that is in the same workshop. The style and the lively colours, as well as the quality and the colour range of our refined painted enamels, rich in shades of green, together with the precious filigree framing and the use of granulation for the rosettes (a technique used in some remarkable chalices and miniature silver furnishings), support a dating of our medallions to the end of the 18th century.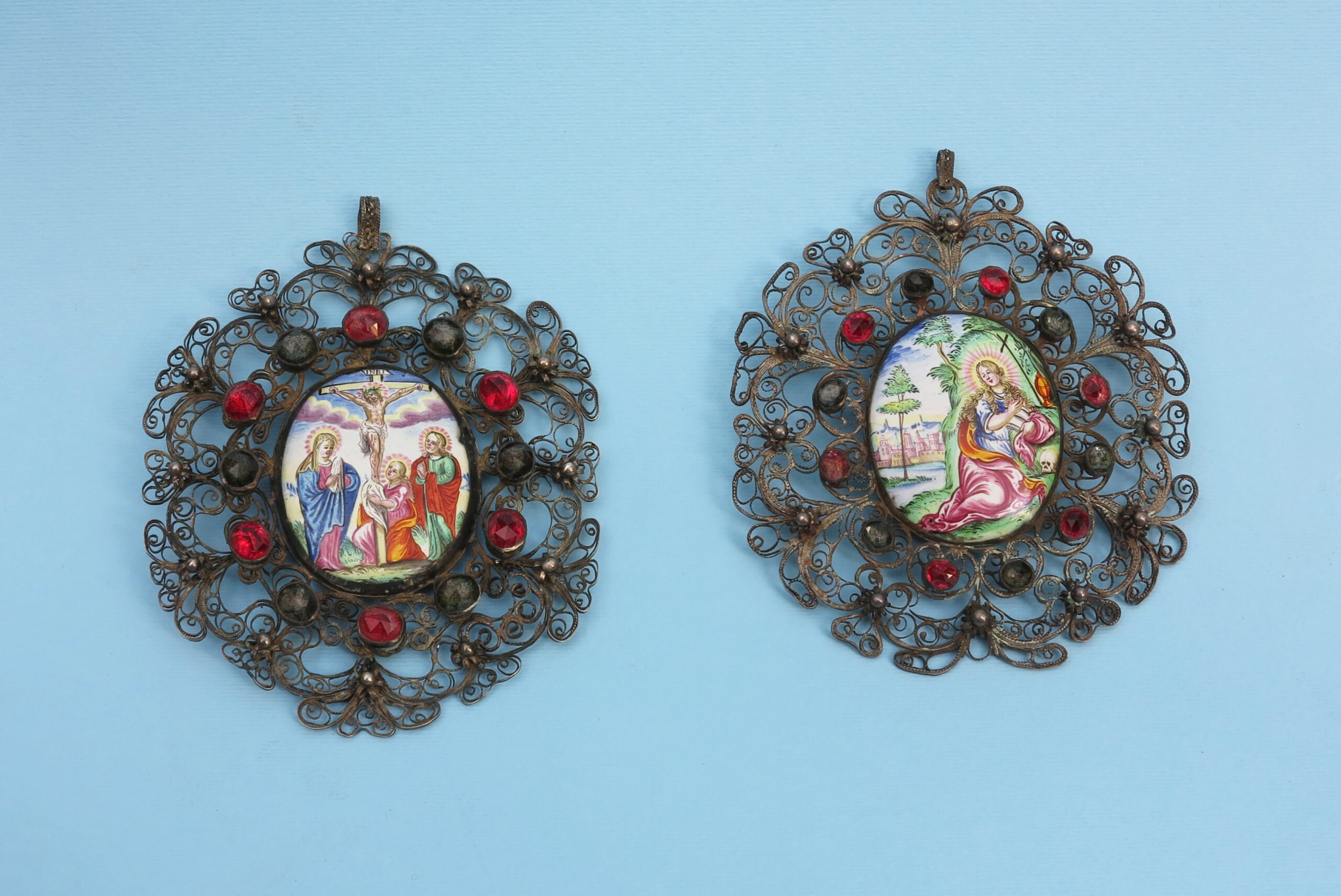 TWO DEVOTIONAL MEDAILLONS
Silver filigree and painted enamel on copper
Sicily
Late 18th century
Cm 8,5 x 10h
References: M. Accascina, I marchi delle argenterie e oreficerie siciliane, Busto Arsizio 1976, p. 105; C. Guastella, La suppellettile e l'arredo mobile, in Materiali per la conoscenza storica e il restauro di una cattedrale, Cefalù exhibition catalogue, Palermo 1982, p. 153; M.C. Di Natale, Le vie del'oro: dalla dispersione alla collezione, in Ori e Argenti…1989, p. 41; M.C. Di Natale, Gioielli di Sicilia, Palermo 2000, Cap. VIII, pp. 157-160; S. Grasso, Le filigrane, in Wunderkammer siciliana alle origini del museo perduto, exhibition catalogue by V. Abbate, Napoli 2001, p. 263.