This rare coat of arms of a Cardinal, carved in low relief, painted and gilded, is the heraldic shield of Don Luis Manuel Fernandez de Portocarrero Bocanegra y Moscoso-Osorio (1635 -1709), a prominent figure in the history of Spain and then also in that of Sicily.
Shields like this were located in representative places and in great evidence (for example above a portal, or in the middle of a wall).
The coat of arms is carved out from a wooden panel made up of two connected boards, which have been sculpted, so to obtain three distinct surface levels. This constructive process is rare and meaningful because, normally, these wooden coats of arms were painted on panel and never carved.
The quality of the relief and the way in which the wood is carved correspond precisely to the great Spanish tradition of the Renaissance and Baroque eras, well documented by the decorative elements embellishing important interiors, sometimes still in situ.
The personage the coat of arms refers to – son of the Marquis of Almenara, Count of Palma del Rio – was appointed cardinal by Pope Clement IX in 1669, he lived in Rome until 1677, as cardinal protector of the Spanish nation; then in 1678 he was appointed bishop, became viceroy of Sicily (and had to face the insurrection of Messina); shortly after he became archbishop of Toledo and a state councillor.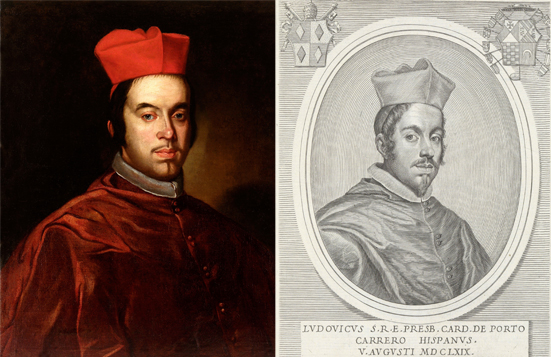 During the crisis of the Spanish monarchy (1700-1715) which began with the death of Charles II of Habsburg, Fernandez played a key role: he became regent, supporting the pro-French faction and becoming the right-hand man of the future King of Spain, Philip V of Bourbon.
The central shield is in this example surmounted by the cardinal's galero with 20 hanging tassels (10 on each side); the absence of references to the bishopric suggests that the piece was executed after 1669 and before 1678.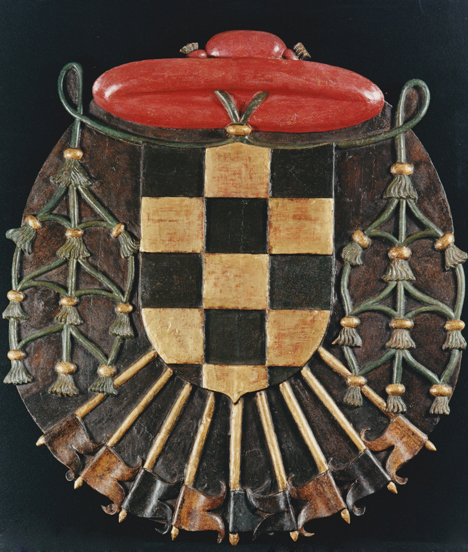 Coat of arms of Don Luis Manuel Fernandez Portocarrero
(Palma del Rio 1635 – Madrid 1709),
Carved, polychromed and gilded wood
Spain
Circa 1670
Cm 80 x 89 h